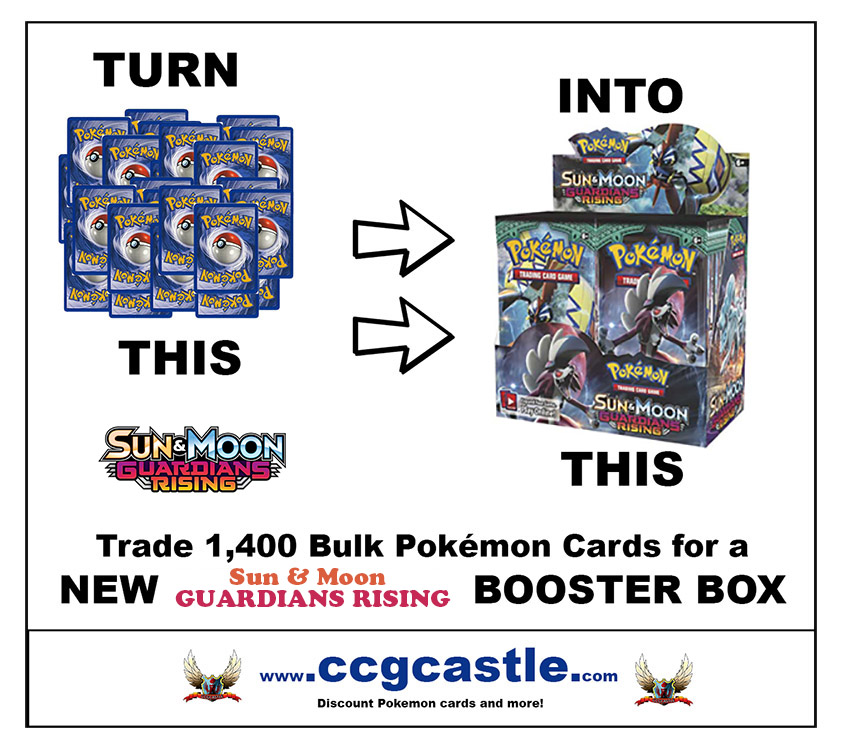 1,400 Bulk for Box (GUARDIANS RISING) Deal!
---
---
Send 1,400 Pokemon Cards to us, receive a FREE Sun & Moon Guardians Rising Booster box shipped back FREE! No limit!
Cards MUST BE :
1. English
2. Near Mint / Mint, Unplayed
3. No Basic Energy
4. Packed neatly, no sleeves or binders. Unsorted is better but not required.
5. Please pack cards in storage boxes. Do NOT wrap packs of them in paper, saran wrap, or anything else. All cards should be tight and packed together for NO shifting around during transit.
To take advantage of this deal select "SELL US YOURS" below, enter how many sets of 1,400 cards you are sending, and be sure to CHECK OUT using our Buy List System for complete rules on how to process it.
Send the cards to:
CCGCastle.com
FREE GUARDIANS RISING Box Trade
2 Craftsman Road
East Windsor, CT 06088
Be sure to include your full shipping address and invoice INSIDE The package. Box ships upon set release!
You are responsibe for getting the cards to us. Please read our Buy List Terms and Conditions.
FREE WORLDWIDE SHIPPING OF THE BOX BACK TO YOU!
Quantity We're Selling: 0
Quantity We're Buying: none
Shipping Weight: 2
Customers Also Purchased
Here's what everyone else is buying with this item